Arduino je vrlo popularna platforma za razvoj koja je bazirana na atmelu MCU, kolko je meni poznato kod nas nema da se kupe atmel ploče. Meni je atmel uvek bio simpatičan zbog dobre podrške na linuxu (gcc-avr i avr-libc).
Drugar je našao jedan zanimljiv klon arduina (isti koncept, isti MCU, samo je pločica drugačija) kod naše Mikro Elektronike po prilično pristupačnoj ceni (14eura + PDV). Reč je o mini at pločici, koja se meni čak i više svidja od arduina jer je drastično manja, mana je naravno to što ne mogu da se kače arduino shieldovi.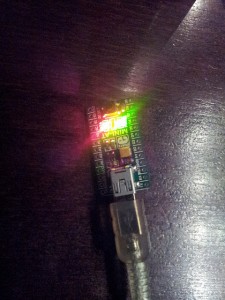 Incijalno Mikro Elektronika predlaže korišnjenje njihovih alata za razvoj, koji naravno ne postoje za linux. Gledajući uputstvo skontam da koriste arvdude software za programiranje koji postoji i na linuxu. I da je protokol za programiranje stk500 takodjer podržan. Sve bi to trebalo da znači da pločica može vrlo jednostavno da se programira i na linuxu.
Potrebni alati na linuxu su avrdude gcc-avr i libc-avr. Na ubuntu/debianu: apt-get install gcc-avr avr-libc avrdude i malo podešavanja koje sam upakovao u Makefile demo projekat.
Sve što je potrebno uraditi je otpakovati zip fajl (eventualno promeniti serijski port u Makefileu) i uraditi make all.